Hiking along the church track
Date: Friday 27 nov 2020 - Thursday 31 Dec 2020
Show map

No matter what season, the area around Hedenstugan Bed and Breakfast Hotel offers an unbeatable natural experience with several hiking trails in untouched nature and fish-rich waters. There are also small cabins and dining options within walking distance.
For hundreds of years the shortest communications route for residents of Axmarby when they wanted to get to Bergby was the church track, by shortest, we are talking about approx. 10 kms. This was the track taken during the summers and the winters when people went to church. It is 8 kms long and stretches from Österhed's chapel to Axmarby missionary chapel.

As a hiker, what you will see is the fantastic nature with dense spruce and pine forests and undulating forest landscape. The track also takes you across marshes and open agricultural areas as well as several old charcoal stacks.

You start your walk along the track at the Hedenstugan B&B Hotel and you then walk along the well-marked trail to Axmarby, or walk along a part of the church track, and then on the way back you go through Hådells gammalskog (ancient woodland) which is also a nature reserve. At Hådell's there is a rest area (hut), a campfire site and a path (about 800 m long).

The church track and Hådells gammalskog offer a unique and varied forest landscape, characterized by a distinct balance between wildlife and nature.
Show more
Date

Saturday 28 nov 2020
Sunday 29 nov 2020
Monday 30 nov 2020
Tuesday 1 dec 2020
Wednesday 2 dec 2020
Thursday 3 dec 2020
Friday 4 dec 2020
Saturday 5 dec 2020
Sunday 6 dec 2020
Monday 7 dec 2020
Tuesday 8 dec 2020
Wednesday 9 dec 2020
Thursday 10 dec 2020
Friday 11 dec 2020
Saturday 12 dec 2020
Sunday 13 dec 2020
Monday 14 dec 2020
Tuesday 15 dec 2020
Wednesday 16 dec 2020
Thursday 17 dec 2020
Friday 18 dec 2020
Saturday 19 dec 2020
Sunday 20 dec 2020
Monday 21 dec 2020
Tuesday 22 dec 2020
Wednesday 23 dec 2020
Thursday 24 dec 2020
Friday 25 dec 2020
Saturday 26 dec 2020
Sunday 27 dec 2020
Monday 28 dec 2020
Tuesday 29 dec 2020
Wednesday 30 dec 2020
Thursday 31 dec 2020
Bed & Breakfast
Distance: 3 meters
Hedenstugan B&B Hotel lies close to the Baltic coastline and 20 minutes' drive north of Gävle. The traditional wooden property has modernised interiors and is surrounded by a large garden. A winner of a Tripadvisor Travellers Choice Award 2019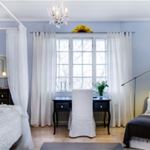 Hotel
Distance: 19.6 km
The destination for the senses - For those who want to experience and learn more about gardening, nature, arts, crafts and food - or just want to make a trip to get away from the busy city life.
Bed & Breakfast
Distance: 27 km
Stall Stråtjära is an active small farm house that offers B&B accommodation in a cozy Swedish atmosphere. The wake-up call in the morning is from the sound of many of the farm's animals, and when you open the curtains; your eyes will look at the horses grazing in pastures. It can't get any more peaceful than this