Visit Rönnåsen
Address: Rönnåsen Ulvsta, 81694 Ockelbo
Show map
Address: Rönnåsen Ulvsta, 81694 Ockelbo

Wounderful view at Rönnåsen
Take a trip to Rönnåsen. Here you´ve a wounderful view. In the summertime the café is open.
Show more
Hotel
Distance: 11.8 km
Set in the midst of meadows, lakes and forestland, Stilleben Sweden in Åmotsbruk, 2 hours north of Stockholm, has come to define a contemporary Swedish nature holiday. You can stay in our new lifestyle hotel, rent a cottage or even retreat on your private island. Complete your stay with one of our organic meals and numerous activities to explore our surroundings. We offer wellness packages and customized travel tips for our guests. Välkommen!
Bed & Breakfast
Distance: 2.8 km
Experience primitiv luxury in a cottage with charm on a unik place that vibrates history from different time epoks. You stay in the double cottage at the homestead and all around, you can see the art of Scandinavian construction technic through a thousand years which also includes a new built stave-church!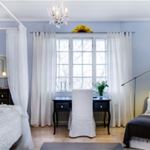 Hotel
Distance: 3.8 km
The destination for the senses - For those who want to experience and learn more about gardening, nature, arts, crafts and food - or just want to make a trip to get away from the busy city life.